26th Annual Jersey Voices One-Act Festival Lineup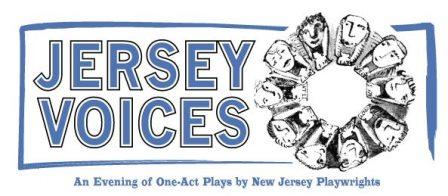 Tue, May 12, 2020
We are excited to announce our 26th annual Jersey Voices One-Act Festival, featuring 6 plays:
"A Man Walks Into a Bar" by Nathan Christopher, directed by Kevern Cameron
Starring: Dale Monroe and Spy Spiegel Monroe
Why, she asks herself, is she still working behind this bar anyway, in this nothing-to-see-here town midway between two better places? And then a man walks in. 
"Date With Death" by Steven Hayet, directed by Lynn Polan
Starring: Ali Archetti, Crystal Ann Bennett, and Ross Pohling
Dating is hell. Rather than deal with the awkwardness of turning someone down, Angela takes a different route. 
"Free Range Cows" by Lynn A. Langone, directed by Joann Lopresti Scanlon
Starring: Barb Haag and Anna McCabe
Mom and daughter head out on a road trip, bonding through long stretches of the USA and the music they listen to along the way.
"Never Will I Ever" by K.F. Lerner, directed by Elissa Strell
 Starring: Liza Harris and Jason Kruk
A newly "empty nested" husband and wife look middle age in the face with sadness, with joy and without blinking.
"Onward" by Lauri MacMillan, directed by Wendy Schibener
Starring: Bridget Burke-Weiss, John A.C. Kennedy, Julie Anne Nolan, and Glen D. Post
Two families, created through divorce, come together to celebrate the achievement of their son and reflect on their journey "onward."
"Amnesty Week" by Loretta Bolger Wish, directed by Christopher C. Gibbs
Starring: Lisa Barnett and Terri Sturtevant
In a library, two women discuss the mystery and the magic of falling in love...with a book.
 
In these unprecedented times, we feel more passionately than ever that there is a need for theatre as both a forum for discussion and an escape from what surrounds us. However, this is no easy task.  In order to make this happen, a lot of time and thought was paid towards how to accomplish this goal while also keeping our community members safe.   We are confident that you will appreciate this unique situation and understand that we have made the following changes for this year's Jersey Voices: 
Casting was left to the discretion of the directors, in lieu of the traditional audition process, to adhere to the CDC guidelines and maintain social distancing.
Rehearsals will be conducted throughout the summer both virtually and in mutually agreed upon (by the cast and director) spaces where social distancing is possible.  Throughout this process the full cast, crew, and production team are in regular communication to make sure that everyone's personal safety and comfort levels are heard and respected. 
As things change day to day, we don't know exactly the format Jersey Voices will be presented in this year.  While we would love to perform in front of a full audience, realistically we will be looking at ways to virtually present these pieces in the most engaging way possible.  Keep a look out for more info as we get further into the summer. 
As things are ever changing, please check our website (www.chathamplayers.org) and our Facebook page for updates on this year's production as we have them. Performances are planned for late August, specific dates TBA.