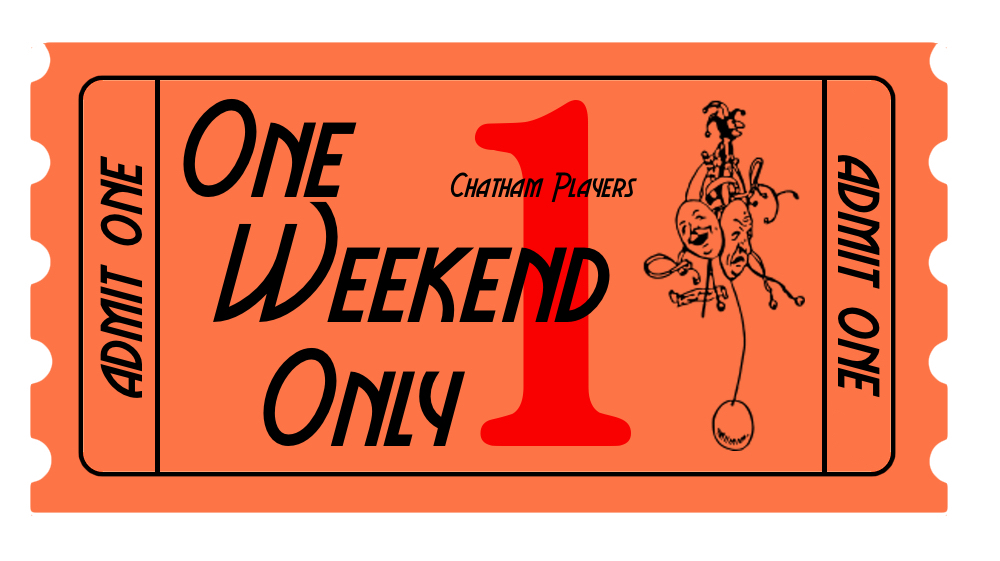 Now in our second year, One Weekend Only is Chatham Community Players' black box series, a two-show slate of productions, staged for just one weekend each, to compliment our mainstage season.
These shows have small casts, small sets, and are staged up close to our audiences. The subject matter may be challenging. The humor may be on the dark side. The drama may be intense. These productions burn bright - but only for a very short time.
---
The 2024 series
Fat Pig by Neil LaBute
Directed by Douglas McLaughlin
January 12-14, 2024
Looking for Ms. Right, Tom meets Helen and is bowled over by her wit, her intellect and her interest. There's one catch: Helen is overweight. Overcoming his own bias for her love, Tom doesn't account for the reaction of friends and co-workers, forcing a man to choose between the woman he loves and how others perceive her. A love story that examines the extent with which we allow vanity, peer pressure, and perception to determine our self-worth.
Coming Soon: TBA
Directed by Felicity Winter
June 7-9, 2024
We will announce soon what show will be presented in June 2024.
---
About Our Inaugural Season
"One Weekend Only was a special experience ...Gruesome Playground Injuries called for an intimate rehearsal space, but coupled with a smaller production staff and condensed process it just felt like friends meeting to do what we all love to do. I think OWO is a great way to bring attention to works that are impactful, unique, and require great trust inside the rehearsal room, but also within the community." - Brooke Harrsch
Mary's Wedding by Stephen Massicotte
Directed by Ed Faver
June 2023
"In the 27 years I have been reviewing theater, I can recall being gobsmacked (astounded, astonished—or, as I call it, "being hit by a truck") only three times: by Robeson in Space at Luna Stage, Venus in Fur at George Street Playhouse and, on Sunday afternoon, Mary's Wedding at the Chatham Community Players. I have seen and reviewed fine productions, but these three affected me more profoundly than most." - Ruth Ross, njartsmaven.com