Seeking Non-Profit Arts and Charitable Organizations- An Offer To Help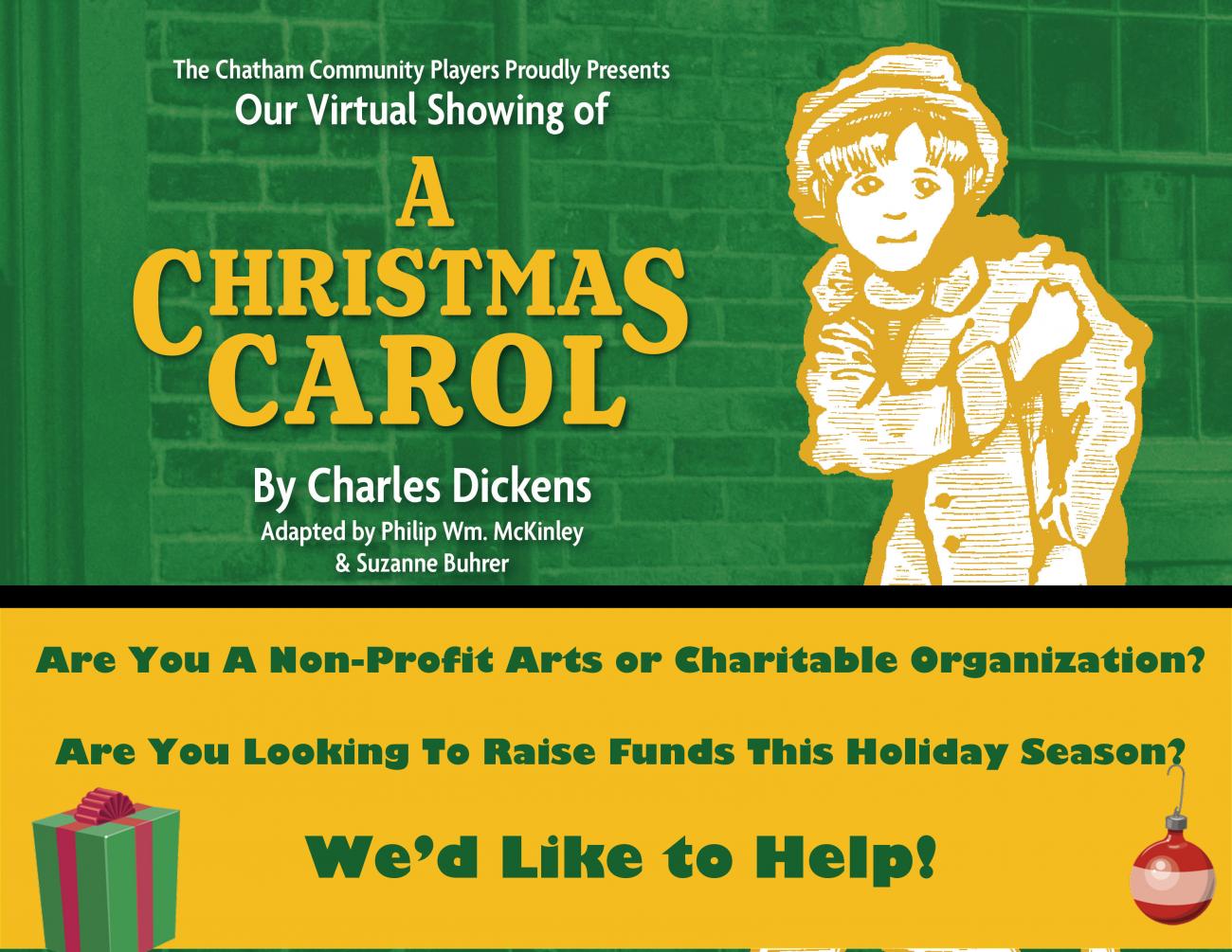 Fri, Nov 13, 2020
Be a part of the holiday spirit and share in our proceeds!
This year, due to the limits on gatherings necessitated by the COVID-19 pandemic, Chatham Community Players has put together a special socially distanced version of our classic production of "A Christmas Carol." This is the same production people over the years have come to love with just some minor changes for both the new format and health and safety protocols.
If you have a non-profit organization that has been struggling during these times, we'd like to help. We are offering partnerships with other arts and charitable organizations to help raise funds this holiday season by sharing the proceeds from one of our virtual performances with your organization. Details are below.
What do we need to do?
First, you'll need to reach out to one of our members, who will connect you with the proper person to setup your details. Then, you simply share the link to the Chatham Players website with your mailing list, friends, family and community. When a patron purchases a "ticket" for the Video-On-Demand stream, they will be prompted to make a donation of their choosing to your organization. All proceeds from donation will be split between your organization and CCP.
Can we promote/benefit from multiple performances?
Since the presentation will be video-on-demand, your patrons can choose to view anytime during the available viewing dates. We are currently planning on opening viewings from 12/15-12/31. Once a stream code is purchased, the viewer has 48 hours to complete the stream and can stop/start as needed.
What are the "ticket" prices?
Tickets are set at $2.00 per stream, and the donation can be determined by the patron. The showings have a suggested donation of $20 per device, however, people are encouraged to donate what they can afford. That can be as little as $1 or as much as they'd like. While many have been struggling to meet basic needs and financial obligations, we want this to be both a way for the community to support the arts and local charitable organizations as well as a way for us to give back to the community.
How are the proceeds tracked?
When a patron purchases a ticket, they can designate which organization they'd like their donation to benefit. This way, all the donations made on behalf of your patrons can be directed back to you. Once the fees are subtracted, we will send you a check for 50% of the showing proceeds.
For more information or to get started, contact ccpbusman@gmail.com